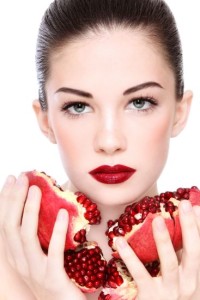 Pomegranate provides amazing skin benefits in addition to the various health benefits associated with it. It is used as an effective exfoliate to get rid of dead skin cells. The antioxidants present in pomegranate not only destroy the free radicals, but they also have anti aging properties. The key vitamins A, K, B and C along with various essential minerals, rejuvenate the skin cells and give you glowing and radiant skin. Vitamin A, C and E promote healthy skin growth by speeding cell renewal and will also help improve skin radiance to bring you skin that feels like brand new. This excellent fruit also prevents acne and hyper pigmentation while increasing the production of collagen for firmer and suppler skin. Eyana beauty salon in Dubai introduces few pomegranate face mask recipes that can help you get flawless skin.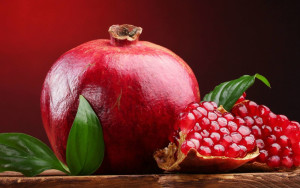 Pomegranate and Honey Face Mask
Honey and pomegranate work together to give you flawless, healthy and radiant skin. To prepare this facemask, take pomegranate beads and make a smooth paste by grinding them in a blender. Add about 1 tablespoon of pure honey to this paste and mix very well. Apply it all over your face and neck and wait for half an hour. When it dries, rinse with cold water. Use this face
Pomegranate Peel Face Mask
To prepare this pack, take pomegranate peel powder and mix with honey and lemon juice into a smooth paste. Apply the paste on the face and leave it to dry on the face for 20 minutes. Then wash it off with lukewarm water. The skin of pomegranate is said to be more beneficial for the skin than the seeds itself. The skin is loaded with antioxidants, Vitamin C and E which help to reduce the sagging skin and wrinkles. It helps in purifying the blood and improving the skin tone by nourishing the skin.
Pomegranate and Oat meal Face Mask
Cutting off the crown of the crown of the fruit and splitting it into four parts without separating it. Leave it in a bowl of cold water to become soft roll out the juice sacs with fingers. Strain and keep back the seeds. Make a smooth paste with these seeds and oatmeal in the blender. Add some honey and buttermilk in this paste. Mix well and apply the mask on the face. Leave it for 15 minutes before washing it off with warm water.
Pomegranate and Papaya Face Mask
Cut a pomegranate and take out around 2 tablespoon of pomegranate seeds. Then take a small piece of papaya and mask them with the help of a spoon. Basically we have to mix some papaya pulp with some pomegranate juice. Mix both of them and apply on the face for 25 minutes. Then wash off.
Pomegranate and Cocoa Face Mask
This is one of the simplest face masks to prepare. When you use two ingredients that are rich in antioxidants, your skin will automatically get youthful and beautiful. Add some cocoa powder to the fresh pomegranate paste and mix well. Apply all over your face and neck. Relax for about 20-25 minutes and then use cold water to rinse off the mask.
At Eyana beauty salon in Dubai, we believe every woman deserve to feel good about herself. Whether you need a moment of relaxation in the form of a massage or facial, or whether you're looking to improve your appearance with eyebrow shaping, waxing, pedicure or manicure, we are here to make you feel great. We use quality products ensuring professional thorough results with every treatment. Eyana beauty salon in Karama, deeply passionate about making women look and feel their very best.
Services:
Salon in dubai – salon in karama – beauty salon in karama,dubai – salon in karama, dubai – nail spa in karama, dubai – best salons in karama, dubai – best salon in dubai for keratin treatment – best manicure in dubai – best facial in dubai